Dear friends and supporters,
First, I want to thank you for your extraordinary support. Your ongoing generosity amazes and heartens me as we move forward to build and expand Naveducando. I hope you feel as proud as I do as you explore our website and read about Naveducando's accomplishments, because it is YOU who make it all possible.
This year we were thrilled to welcome more than 300 children into our new Galápagos Infinito En Línea (Galápagos Infinito Online) program. Through our online learning experiences, students have virtually explored other islands, learned about the sea and its incredible wildlife, and absorbed lessons about pollution and steps they could take to reduce waste. They even had the opportunity to talk to astronauts in the International Space Station, all from the comfort of their own homes.
This is just the beginning! We have many more amazing online missions planned for our students in the upcoming year. Each is designed as an opportunity to open the minds and hearts of our children for Galapagos. Thanks to you, our supporters.
You are our heroes! Your love for Galapagos and your generous contributions to our Foundation inspire and encourage all of us at Naveducando to be our best, and every day devote ourselves to fulfilling our mission.
We are sending you a big virtual hug to express our gratitude, and ask you to help us to continue in our fight for the future of Galapagos. Please donate today.
With deep appreciation,
Roby Pépolas
Catalysts are everywhere! Our cars use platinum as a catalyst to break down toxic gasses into harmless water vapor and carbon dioxide. In the kitchen, the yeast in bread dough contains enzymes that act as a catalyst to aid fermentation. Even inside the body there are catalyst enzymes to help digest that bread. People can be catalysts too when they facilitate change.
Naveducando strives to be a catalyst for conservation and sustainability in Galapagos by investing in educational programs that will facilitate change. These programs will provide students with knowledge, support, and tools to help them to protect the archipelago now and in the future. Our aim is to instill a deeper appreciation for the natural world, inspire and motivate them to be thoughtful stewards, and safeguard this unique, fragile, and precious ecosystem for future generations.
The Naveducando Foundation works to educate, engage, and inspire people to live sustainably and conserve Galapagos now and for generations to come.
Naveducando builds students' confidence and helps them grasp the significance of impactful change.  We support and empower them to take individual positive actions, share their knowledge with others, become catalysts for change, and encourage family and friends to join them in doing the same.
Like a chemical reaction that needs only a tiny amount of the catalyst to cause dramatic results, we believe that every action our students take is meaningful, no matter how small, because it indicates a shift in mindset in favor of conservation.  If our students care about protecting Galapagos, we believe that these first small steps will mark the beginning of a lifetime of positive choices, both big and small, the cumulative effect of which cannot be underestimated.
In our role as catalyst for change, Naveducando will reduce the time it takes to impact conservation efforts by focusing on small steps that our students can implement easily and swiftly.
Naveducando envisions a Galapagos community that understands and values the unique ecosystem of the archipelago, passionately protecting and defending its conservation through sustainable living and mindful management and policy.
Naveducando is also looking to the future.  We believe it is imperative to build a strong foundation for both our students and our alumni. We will continue to strengthen and expand our educational programming to include learners of all ages.  We will welcome alumni into the Naveducando community, and we will nurture those relationships to engage and connect with them throughout their lives.
With our continued encouragement and support, these thoughtful and caring individuals will continue their educational journey and eventually assume leadership roles. Their deep love and respect for Galapagos and the environment will guide their choices as decision makers and guardians of this very special place.
Your generous contributions are what make all of our work possible.  Donate now and help us make a bigger impact.
The values held by the Naveducando Foundation represent our priorities and passions.  They reflect our character, shape our organizational culture, and guide our conduct in every aspect of the work we do to fulfill our mission.
Integrity
We strive to earn and keep the trust of our stakeholders, employees, benefactors, donors, and the public by acting honestly and ethically in all of our actions.
Respect
We do our best work when we show kindness, dignity, and respect to all living things and the planet that sustains us.
Collaboration
We believe we can achieve more by working together.  We welcome and celebrate opportunities to maximize our organizational capacity and impact through supportive partnerships and teamwork. 
Curiosity 
We become more effective when we continuously seek to broaden our knowledge and experience, learn from our successes and failures, remain open to dialog and new perspectives, and intentionally reflect on the marvels of the natural world around us.
Optimism
We choose to see what's possible, we prefer to discuss solutions, and we encourage bold ideas.  We know that people with passion and resolve have the power to change the world for the better.  
Sustainability
We make a concerted effort to minimize our environmental impact on the earth and its resources.
Stewardship
We are committed to managing and nurturing the resources entrusted to us, including our people, natural resources, and financial assets, in a careful, responsible, and transparent manner.   
Diversity
We find strength in our differences and embrace practices that promote the full participation and sense of inclusion for all people. 
Our senior leadership team drives the strategy and direction of our work to deliver impactful educational programs to the Galapagos community.
Roberto Pépolas
Founder and Director
As founder and director of the Naveducando Foundation, Roby shapes and approves the vision and strategic direction of our organization and oversees financial operations.
Juan Salcedo
Director of Programs
Juan is responsible for the strategic and operational success of all of Naveducando's programs.  He leads program development, execution, evaluation, and impact reporting.
Stuart Banks
Director of Development and Foundation Relations
Stuart sets Naveducando's development strategy and builds strategic relationships with individuals, organizations, sponsors, and government entities to assure the success of our Foundation's initiatives.
Paola Luque
Educator and Naturalist Guide
Paola supports Naveducando's educational programs.
The story behind our logo
The Naveducando Foundation logo was inspired by a sea creature called a nautilus.  Its name is the Latin form of the ancient Greek word ναυτίλος, meaning sailor.  We chose it to represent our organization because to us, it is a fitting visual metaphor for our aspirations.  
The beautiful, logarithmic spiral of its shell and the progression of increasingly larger chambers that comprise its graceful whorl symbolize the evolution in perspective that we seek to inspire in our learners as they grow in their discovery and appreciation of this precious archipelago.   
This incredible animal has existed in our oceans for hundreds of millions of years.  We admire its tenacity and work every day to emulate its example in growing and strengthening the Naveducando Foundation to pursue our mission with a passionate determination.
The story behind our name
For thousands of years, sailors have used the stars to navigate and find 'true north.' North Star, also called Polaris or Polestar, guides them on their journeys. No matter where a sailor is in the northern hemisphere, they can count on being able to find their way by locating that star on a clear night, by finding true north.
The phrase "finding true north" has also come to represent the process of discovering a purpose in life by finding your own guiding star.
We believe education is the key.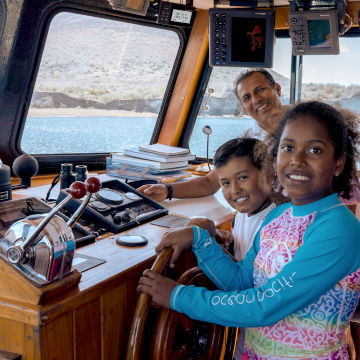 We asked ourselves, "What is our true north? What is the guiding purpose of our foundation?"
Conservation of the Galapagos ecosystem for future generations is our true north, the shining star that drives and inspires us to continue our work.
Then we asked ourselves, "How will we accomplish this?  How will we get where we want to go?"
We believe education is the key.  By educating our learners, stirring in them a deep love for our archipelago, we can achieve our purpose.
Naveducando's first program, Galápagos Infinito, takes school children into areas of the Galapagos National Park that are only accessible by boat.  While there, they enjoy lessons about wildlife, science, history, ecology, geology, conservation, water sports, personal development, and more.  Students are even invited onto the bridge of the boat where they learn about principles of naval navigation.
The decision for our name was simple – combine these themes:  education, teaching, navigation and finding our true north. We combined two Spanish words, navegación, which translates to navigation and educando, which means teaching. "Naveducando," the name of the foundation we all know and love.
Each student in our programs is warmly invited to become a fellow traveler, joining us on the journey to our true north – Galapagos conservation.  Together, we make our way towards conserving these precious islands, and protect them for future generations.  We cordially invite YOU to join us on this journey to our true north.