The Naveducation Foundation delivers educational programs for Galapagos schoolchildren, encouraging them to cultivate a caring attitude for the natural world.   These programs prepare them for the opportunities and challenges they will face as the next generation of leaders charged with protecting the archipelago.  We strive to make our lessons about ecosystems, sustainability, and conservation both personally relevant and actionable to encourage more thoughtful living every day.
Each of Naveducando's programs are aligned around the following objectives:
Increase our students' knowledge of the unique Galapagos ecosystem they call home.
Encourage them to approach nature with a sense of wonder, respect, and appreciation.
Help them understand their connection to nature and their interdependent relationship with it.
Raise awareness of the ecological and social impact of personal lifestyle choices.
Spur critical consciousness of the challenges facing Galapagos.
Foster thoughtful and ongoing discussion about conservation and sustainability.
Motivate and empower our students to take action and encourage others to do the same.
Teaching and Learning Stragegy
The Naveducando Foundation delivers learning experiences that are top-notch, effective, and impactful.
Echoing the spiral shape of the nautilus shell that represents the Naveducado Foundation, we base our curriculum on the spiral learning model because studies have shown that it leads to better long-term retention of information and ideas. 
We spread out learning over time, frequently spiraling back to revisit topics, intentionally deepening our exploration with each iteration.  In doing so, we continually reinforce and build knowledge so our students' understanding or skill level progressively expands from basic to complex.
We strive to produce high-quality evidence-based educational experiences for our students.  To do that effectively, we continually assess and adjust our efforts. 
We define specific and measurable student learning outcomes to ensure we are consistently aligned across all of our programs.  We systematically collect and analyze data to understand what our students are learning.  Finally, we hold ourselves accountable.  We are thoughtful and deliberate in our approach, and our students gain value from the learning experiences we provide.
Launched in 2017, the Naveducando Foundation's Galápagos Infinito program is a five-day "floating classroom" experience that brings Galapagos seventh-graders on a fun and active educational journey into the awe-inspiring wild areas of the archipelago.  During their time "off the grid" they are invited to become students of the world around them.  They connect with nature and rediscover the joy of being alive.
Naveducando immerses these young children in an outdoor environment, using a science-based curriculum to teach them about the natural world and ways to safeguard it.  Naveducando's  instructors and naturalist guides bring the children on island nature hikes. They experience lessons about wildlife, ecology, geology, history, conservation, sustainability, and more.  Children are taught to keep a safe and respectful distance from endemic species while they learn about biodiversity and why it is important.
We build their confidence and self-esteem.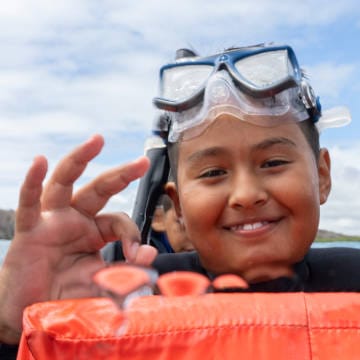 Naveducando's students have several opportunities to explore and learn about the diverse marine ecosystem beneath the waves.  Under the watchful eye of our expert instructors, students can experience swimming, snorkeling, kayaking, paddle boarding, sailing, and diving.  Each of these water sports teach the children new ways to enjoy themselves outdoors. They present them with small challenges, that when overcome, teach them the importance of hard work and perseverance, which builds confidence and self-esteem.
During each trip, children participate in an environmental clean-up activity. They work together to collect trash on island beaches and learn lessons about personal responsibility and sustainable choices. They become citizen scientists, studying sand samples, uncovering tiny plastic pollutants that harm the ocean environment, and learning about the ways in which they can become better marine stewards.
Our students learn directly from the boat's captain, the crew, and the guides about their jobs and the skills and experience they need to accomplish their work. The captain shares his knowledge about the electronic devices that help navigate during a storm. The naturalist guide references facts he learned in his biology class during his presentations. The marine engineer demonstrate how the boat's desalination system functions, and the chef might share his secret recipe chocolate cake as they all prepare it together in the ship's galley. The lessons they will learn are many and varied. Any one of these experiences could be the spark that inspires ambitious plans for a student who wants to follow in their mentors' footsteps.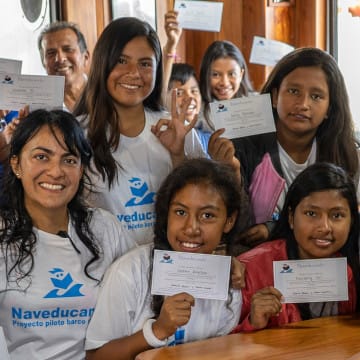 Our proud graduates: Ready to take action.
Each night after excitedly recounting the day's adventures over dinner, students gather for engaging activities and games designed to revisit and reinforce lessons learned earlier.  Naveducando's instructors build upon that knowledge as they more deeply explore a wide variety of subjects from scientific topics such as climate change and permaculture to methods for exploring personal growth and discovery like meditation and mindfulness.
Our students return home transformed.  They bond with each other over the shared experience, strengthen friendships and gain a sense of community that will last for a lifetime.  They develop a deeper, more respectful relationship with nature, better understand and appreciate the complex connection between humans and the planet, and are cognizant of their ethical responsibilities as caretakers of the archipelago.  They are relaxed, recharged, and inspired to take action on behalf of Galapagos, and then they do.
Galápagos Infinito En Línea
To broaden the scope of our educational outreach, together with the Governing Council of the Galapagos Special Regime, this year the Naveducando Foundation launched its second program, Galápagos Infinito En Línea (Galápagos Infinito Online), targeting Galapagos school children ages eleven to thirteen.  Through this program, Naveducando expands our learners' horizons by introducing them virtually to people, places, information, and ideas that they would not have had the opportunity to otherwise encounter.
By bringing learners with us into the online space, Naveducando improves the digital literacy of local children as they become more familiar with the technology tools they use to access our online Missions.  During our live sessions, students hone their online communication skills and cultural competency through virtual interactions with instructors and peers from around the world.  All of our Missions are recorded and available for anyone to watch and learn at any time.
Like Galápagos Infinito, Naveducando's Galápagos Infinito En Línea program encourages our students' understanding and appreciation of the natural world and inspires a passion to protect Galapagos for future generations.  This theme is echoed in the diversity of our Missions subjects, including island life and history, terrestrial and marine ecology, climate change, volcanology, and many more.
Naveducando also offers Missions that present a behind-the-scenes look into a variety of careers. We believe that by exposing children to a range of possibilities early in life, our students will set more ambitious goals for themselves and make more informed choices about their academic career. When they are able to see where their education can take them and they understand the connection between their schoolwork and how that relates to achieving those goals, they will value education and hard work and this will set them on the path to success no matter what they choose to do in life.
In partnership with NASA, the Naveducando Foundation connected 7th grade students from twelve Galapagos schools with Astronauts in the International Space Station. In January 2021, Astronauts responded via live transmission to sixteen questions from our students. They were excited to learn about how they could become a scientist living and working in space if they study hard in school.
One of Naveducando's top priorities is to make the Galápagos Infinito program more inclusive.  Currently, a small number of students are nominated for the program by their teachers, based on academic achievement.  The Naveducando Foundation seeks to eliminate merit-based considerations as selection criteria for participation in this transformative, tuition-free experience.  Our intention is to make this program accessible to all 7th graders enrolled in the Galapagos school system every year, establishing it as a regular part of the curriculum.
Naveducando is conscious of the access issues that preclude some children from participating in our online programs.  Not all students possess the technological resources and support at home that distance learning requires when their families are rightfully prioritizing their financial survival during these challenging times.  We are exploring ways to get devices and internet connectivity to these students to close the gap between them and their more affluent peers.
Naveducando is establishing new communication channels to strengthen the sense of community among our students and to more effectively engage local school teachers, keep them up to date on events and activities, and encourage them to incorporate Naveducando's Missions into their lesson plans.
Instructor Collaboration and Support
Naveducando works with local educators to incorporate our course content into their lesson plans.  We also seek to collaborate with teachers to identify knowledge gaps and strategize about how to address them with future programming.